Valet Health is Awarded the HIPAA Seal of Compliance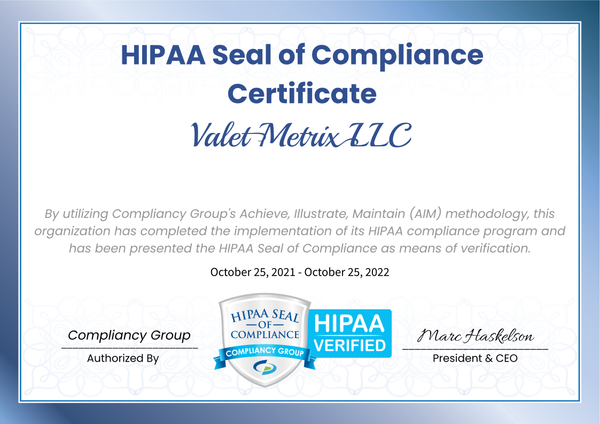 In 1996, HIPAA (The Health Insurance Portability and Accountability Act) was introduced. This legislation required healthcare organizations to administer controls that protected patient data in an effort to prevent health fraud. HIPAA has presented countless benefits for the healthcare industry that helps with streamlining administrative healthcare duties, ensuring patient health information is shared securely, transitioning practices from paper records to digital copies of healthcare records, and much more.
HIPAA Seal of Compliance
For companies that work digitally and directly with healthcare practices, it is vital that they are also HIPAA compliant – as any data they have access to on digital devices needs to be protected. For this reason, Valet Health proudly announces they have received a Seal of Compliance from Compliancy Group. This means Valet Health is verified and has validated a "good faith effort" to satisfy the HIPAA law and regulations.
Valet Health can confidently work with healthcare practices and professionals knowing that their information is protected and secure. In the event that our clients share information that is protected health information (PHI), Valet Health has put security measures in place to ensure this data stays protected and private.
This "good faith effort" was awarded to Valet Health after our team thoroughly explored and analyzed the risks and options associated with complying with the applicable standard as well as documenting what measures and efforts are in place to reduce risk.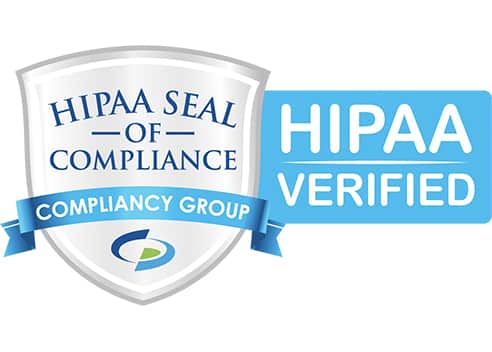 Valet Health is proud of this achievement within their company. To learn more about how Valet Health helps healthcare practices with their online visibility and reputation management, please click here. Their complete suite of digital solutions to support your entire practice lays the foundation for practice growth and industry authority. Contact us today to learn more.